XGN66-12 Overview
XGN66-12fixed closed switchgear (hereinafter referred to as switchgear) is a new generation of high-voltage electrical complete sets of our company, in line with national standard GB3906 "3-35kV AC metal-enclosed switchgear"Power Department DLT404
"Indoor AC high voltage switchgear order The requirements of Technical Conditions also meet the requirements of the international standard IEC60298"AC metal-enclosed switchgear and control equipment below 1kV below52kV".
The product absorbs foreign advanced technology, its small size is only 50% of the volume of the ordinary switchgear; the circuit breaker has high reliability and good performance; the "five-proof"interlocking mechanism is reliable and simple. The switchgear is a 3.6,7.2,12kV three-phase AC 50Hz single busbar segmented indoor unit for receiving and distributing electrical energy. It has the functions of controlling, protecting and monitoring the circuit. It can be used in various types of power plants, substations, industrial and mining enterprises, high-rise buildings, etc., and can also be combined with ring network cabinets for use in opening and closing.

XGN66-12 Use environmental conditions
1. The altitude does not exceed1000m.
2. Ambient temperature:-25℃~+40℃, the average temperature within 24 hours does not exceed+35℃
3. The horizontal inclination is no more than 3 degrees.
4. The intensity of the earthquake does not exceed 8 levels.
5. No severe vibration and shock and explosion hazard.
XGN66-12 Structural features
1. The cabinet is welded with high quality angle steel.
2. The circuit breaker room is located in the middle (lower part) of the cabinet, which is convenient for installation, commissioning and maintenance. The standard VS1 circuit breaker is equipped with a pressure relief channel to ensure personal safety.
3. The advanced and reliable rotary isolating switch can safely enter the circuit breaker room for maintenance under the main bus.
4. The whole cabinet protection class IP2X.
5. With a reliable and fully functional mandatory mechanical locking device, it is easy and effective to meet the "five-proof"requirements.
6. Has a reliable grounding system.
7. The observation window is installed on the door, and the working state of the components in the cabinet can be clearly observed.
8. The operating mechanism is locked with the JSXGN locking mechanism for the XGN2-2 2 cabinet, which is simple, reliable and convenient.
9. The incoming and outgoing cable is lower than the front of the cabinet for easy connection.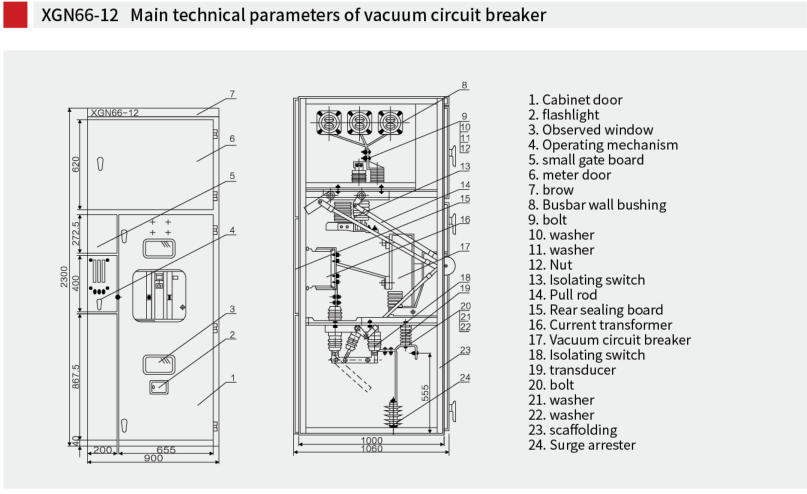 XGN66-12 The main technical parameters
Name
Unit
Data
Rated voltage
kV
3.6  7.2   12
Rated working frequency endurable voltage
kV
To the ground,phase:42:Fracture:48
Rated lightning impulse withstand voltage
kV
To the ground,phase:75:Fracture:85
Rated frequency
Hz
50
Rated current
A
630  1250
Rated short-circuit breaking current(effective value)
kA
20  25  31.5
Rated short circuit closing current(peak)
kA
50  63  80
Rated dynamic current(peak)
kA
50  63  80
Rated thermal stability current 4s(RMS)
kA
20  25  31.5
Protection grade
IP2X
The extermal dimension width X deep X is high
mm
900*1000*2300
Weight
kg
≈600